CHIKUWA & ASPARAGUS BUTTERY STIR FRY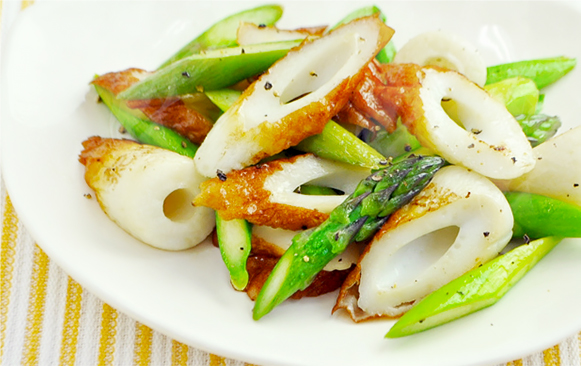 Slice Chikuwa on an angle, about ¼ inch thickness. Cook asparagus in salted boiling water. The cut on an angle, about 1 inch length. Heat a frying pan in medium heat with butter. Add Chikuwa and asparagus into a pan, stir fry with salt and pepper quickly. Add soy sauce and stir. Then ready to […]
Ingredients
Chikuwa

2 sticks

Asparagus

3 pieces

Butter

1/2 TBS

Salt

a pinch if desired

Pepper

a pinch if desired

Soy sauce

1 TSP
Slice Chikuwa on an angle, about ¼ inch thickness.
Cook asparagus in salted boiling water. The cut on an angle, about 1 inch length.
Heat a frying pan in medium heat with butter. Add Chikuwa and asparagus into a pan, stir fry with salt and pepper quickly.
Add soy sauce and stir. Then ready to serve. *You can add sliced/minced garlic to enhance flavor.